Product Detail
Parameter
Dimension
Model No.: SOAR800-TH series long range auto tracking ptz
It is a powerful day and night multi-sensor, especially developed for remote monitoring.
Rugged and durable to withstand the harshest weather and environmental conditions, including rain, direct Sunlight, high humidity and dust.
Designed specifically for outdoor use, this function tracks an objects of interest at varying zoom levels. It has the ability to change object type mid follow (EX. A person entering a vehicle), continue to follow during obstructed views, changing aspects ratios (crawling, walking, etc) and varied speeds (walking, stopping, running).
Key Features
●Built in high sensitivity infrared thermal imaging camera with large aperture lens, and ultralow illumination integrated HD IPC; all have been carried over a 360° medium-size omnidirectional PTZ platform; supports medium and long-range fast search and monitoring
●Powerful embedded intelligent analysis algorithm makes motion detection, region intrusion detection, line crossing detection, moving path tracking, target enhancement and other intelligent analysis functions done in the device
●Leading thermal imaging procession algorithm: IDE (image details enhancement algorithm), HDR (high dynamic range algorithm: sea-sky mode, sky-earth mode)
●Embedded high temperature alarm module, you accurately pre-alarm the fire source in time based on the leading temperature alarming algorithm, pre-alarming grades are adjustable, applicable for the need of fire pre-alarming in different scenes
●Applicable under extreme bad weather (including complete darkness, rain, snow, smog and etc.)
●Powered by complete functions and interfaces; standardized security interface design, supporting ONVIF and protocol, easily access to the platform
●Impressive appearance, integrated structural design, easy for installation and maintenance
Hot Tags: long range auto tracking PTZ, China, manufacturers, factory, customized, Body Temperature Detect Camera, Zoom Camera Module, AI Zoom Camera Module, Dual Payload Vehicle Mounted Ptz, IP67 Dual Payload Thermal PTZ, Long Range Thermal PTZ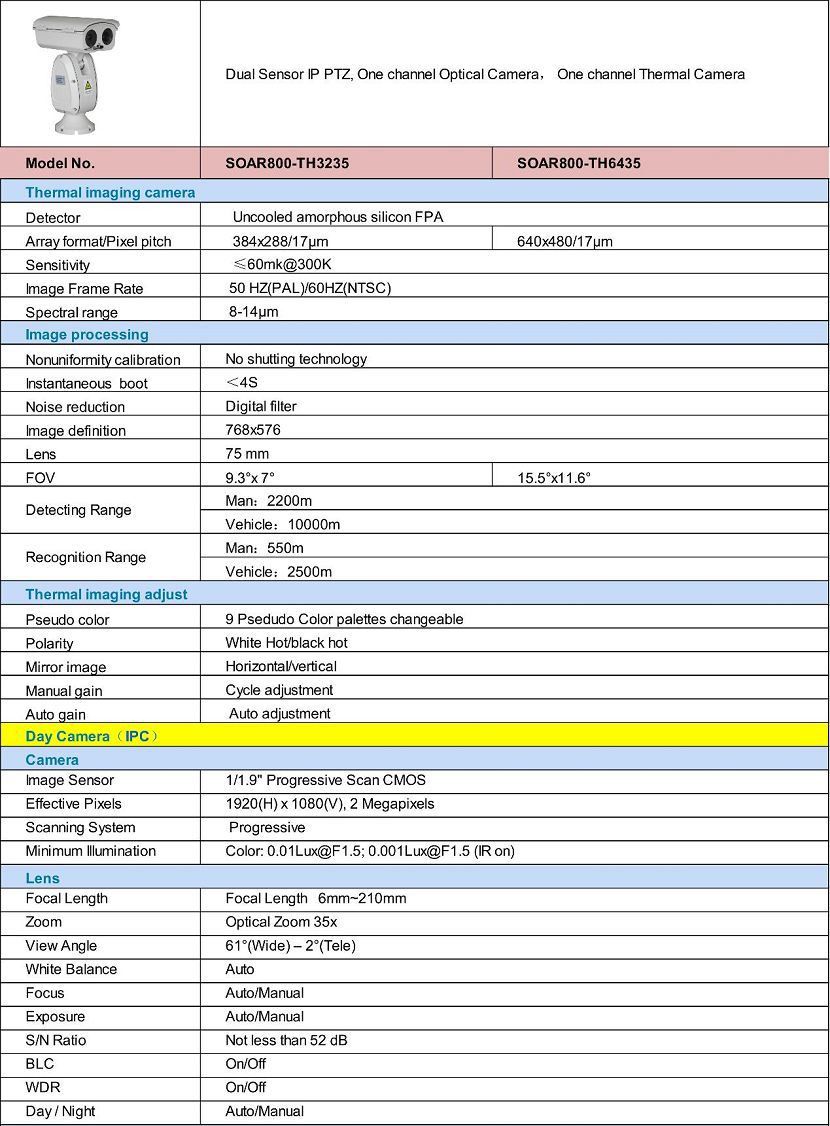 ---
---